Courtesy of Armstrong Flooring
Understanding Hardwood Flooring
If you're looking to add warmth and beauty to your home, nothing compares to genuine hardwood flooring. Engineered and solid hardwood floors are both made from 100% real wood, but there are significant differences in their overall construction.
Engineered wood floors behave a little differently than solid plank floors do. They tend to be easier to install and are usually less expensive than solid hardwood.
However, not all wood floors are created equal. Depending on the type or species of wood the flooring is made from will determine what type of performance qualities it has. Understanding these differences will go a long way to help you choose the wood floor that's right for your home.
 Engineered Hardwood vs. Solid Hardwood
Solid hardwood floors are just that — they're made from solid wood. Each board of solid hardwood flooring is made from a single piece of hardwood that's about 3/4 of an inch thick. Because it's so thick it can be sanded down and refinished for however long the flooring is in the house.
Engineered hardwood is a versatile and resilient flooring option that can be installed in most areas of your home. Made of genuine wood, this flooring gives your home an updated look and feel. Engineered hardwood is made of a core of hardwood or plywood with a layer of hardwood veneer affixed to the top surface. It's more resistant to moisture and heat compared to solid hardwood.

 Where Can I Install Hardwood Floors?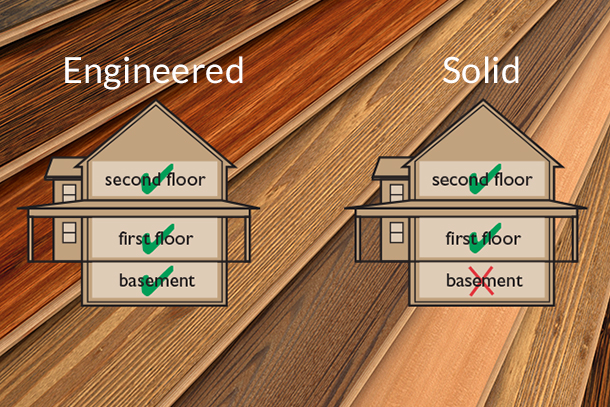 Solid hardwood expands and contracts in reaction to changes in moisture and temperature, so solid wood floors are only recommended for rooms at ground level or above.
The unique construction of engineered wood creates a structure that is less likely to buckle, gap, or react to fluctuations in humidity and temperature. You can install engineered flooring on any level, including below ground. It's a great choice for finished basements and bathrooms.
 Solid vs. Engineered Performance
Both solid and engineered hardwood floors are designed for beauty and durability. Their tough surface can stand up to active homes. However, both solid and engineered hardwood flooring have different performance attributes.
Solid wood flooring is permanently nailed to the subfloor. Because of expansion and contraction issues, installers will normally leave a gap between the wall and the floor to accommodate swelling. This type of flooring should only be installed in parts of the home above grade and only over plywood, wood or oriented strand board subfloors.
Engineered floors have enhanced stability, which provides slightly more resistance to everyday wear- and-tear and also to buckling or rippling. Solid hardwood floors are more prone to shrinking or expanding based on humidity levels.
Engineered wood floors can be more resistant to moisture and offer a bit more stability than solid hardwood. While no wood product can tolerate water laying on it, the increased moisture levels over concrete aren't a problem for most engineered wood floors. Unlike solid hardwood, engineered hardwood can go over concrete under the right conditions.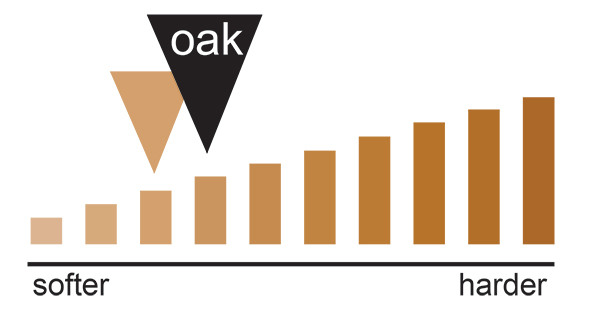 DIY vs. Pro Installation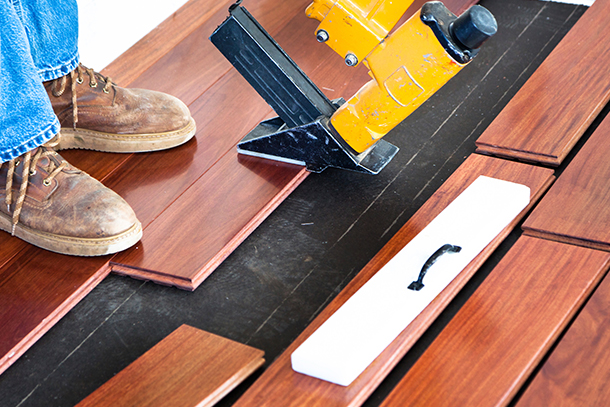 Solid hardwood flooring can be glued, nailed or stapled to a wood subfloor. These types of installations are best left to the pros, since they can challenge even experienced DIYers.
Engineered wood floors can be either nailed down or glued down, like a traditional hardwood installation. They can also be installed as "floating" floors, in which the boards attach to each other and "float" above the subfloor.
Whoever installs your solid hardwood floors must have enough experience to leave the right amount of space for hardwood's natural expansion and contraction. The individual boards can't be too tight or too loose. If they're too tight your floor will buckle. If it's too loose the gaps between the boards will get too wide in the winter.
 DIY Hardwood Installation
Solid hardwood flooring installation is perhaps the most challenging of all flooring types. However with the right tools and planning skilled DIYers can handle the job with stunning results. If you're unsure if you're up to the task, call us, so you know what to expect.
Engineered hardwood flooring is an easier and faster DIY installation. Some engineered hardwood flooring comes with a click together installation system. This simple two-step process eliminates the need for messy glue or nails.